The electrical. Was inspected and approved at the house last week, which means we can start covering up the walls. There's a bit more carpentry work before then, plus my contractor tells me that they're aiming to paint the exterior trim this week, if the weather allows. I hope it allows.
Writing inspiration. I've been thinking about two bits of advice this week as I resume writing after the Thanksgiving weekend. Both just happen to be from experienced musicians talking to or about younger ones. The first is Pharrell Williams' glowing feedback of then-NYU-student Maggie Rogers:
You're doing your own thing. It's singular. It's like when the Wu-Tang Clan came out, no one could really judge it. You either liked it or you didn't, but you couldn't compare it to anything else. And that is such a special quality – and all of us possess that ability. But you have to be willing to seek. And you have to be willing to be, like, real frank in your music. And frank in your choices. Most of the time people will say, I'm going to make this type of a song. So it ends up sounding like something we heard before or felt before … Your whole story – I can feel it in the music. I can hear the journey.
(Her SNL performance, by the way, was just stunning.)
The second comes from John Mayer's Instagram story, in reference to this high-schooly album by Alec Benjamin: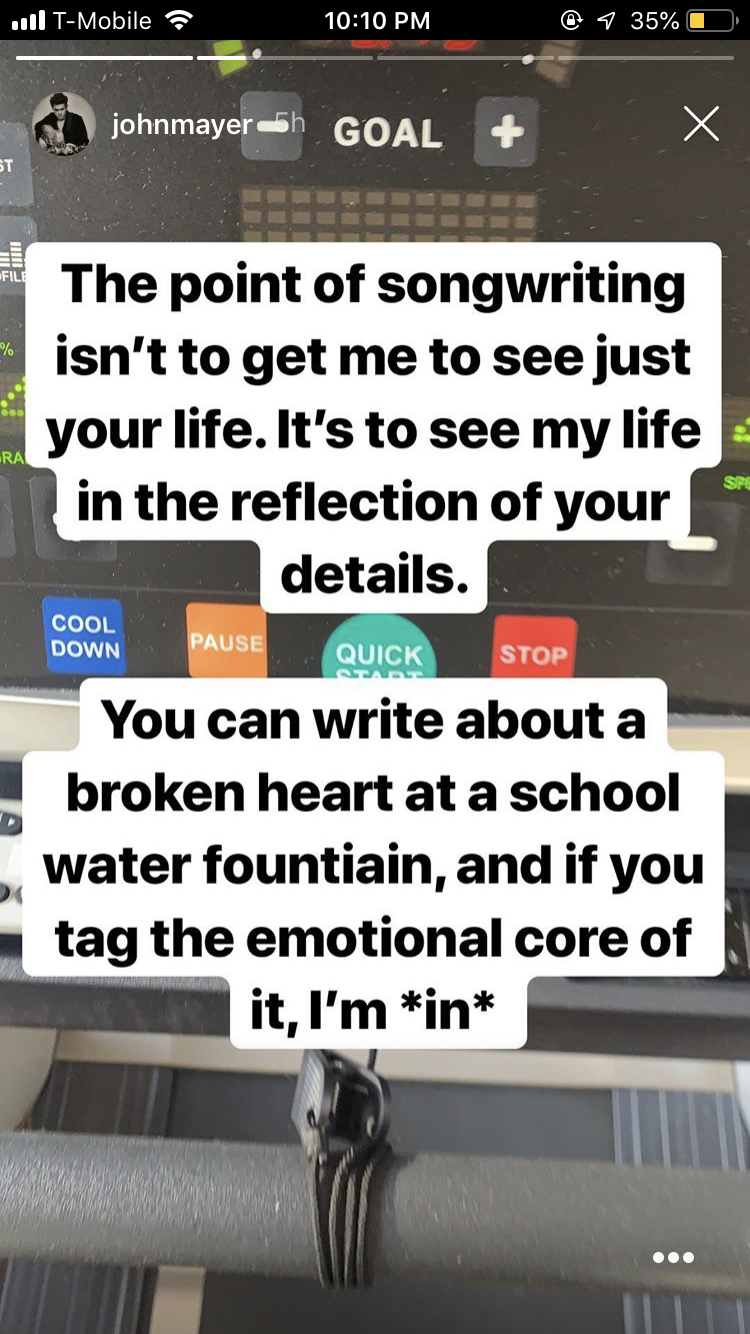 Pharrell's talking about bringing the whole story, and Mayer's talking about reflecting details, but I think they're both referring to the same thing: finding the aspects of your art that are simultaneous personal and universal. Specific enough to feel genuine. The hard-earned results of the work you've done on yourself, and the realizations that you've come to in life (or will come to through making your art.)