Greetings teachers, librarians, booksellers, and parents! I'm happy to say that as of March 2022, I am once again doing in-person visits (and I'll continue to do virtual ones as well). See below for more details.
Video Readings
Since the start of pandemic, I've been posting readings from the first chapters of See You in the Cosmos to YouTube. Here is a brief introduction:
I do these in my spare time, so please be patient. Once again, you can find all the videos on my YouTube channel.
Virtual and In-Person Visits
I'm currently doing three different types of visits, both virtually and in person. I've given these presentation to audiences of kids and adults alike, in schools, libraries, and at book festivals, all across the world.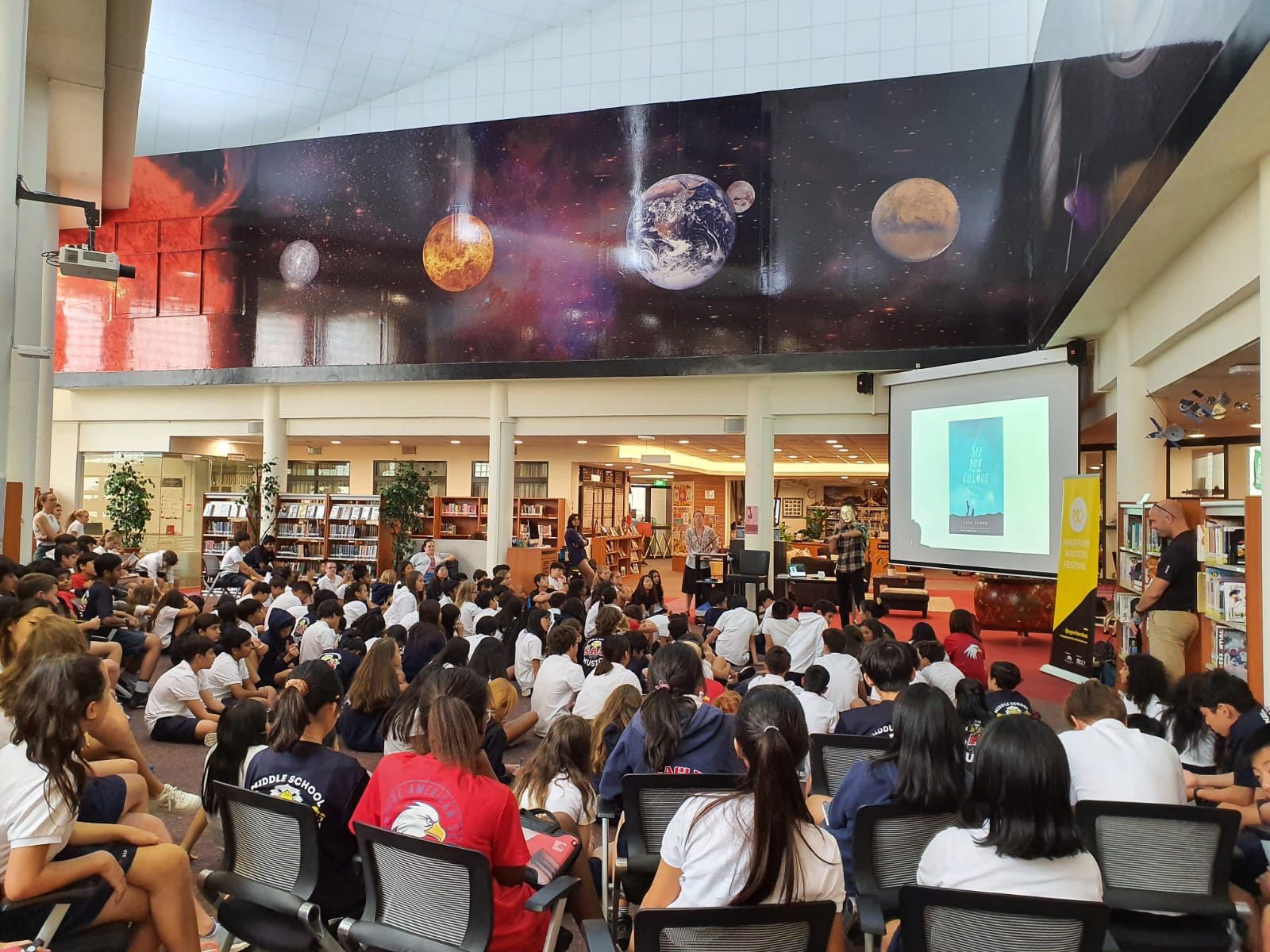 Journey to the Stars: How I came to write See You in the Cosmos · 40–60 min
A (very) visual slideshow intended for a general audience -- they don't need to have already read the book. I take students through my path to becoming an author, from moving from China at a young age to growing up in Michigan, working in advertising and technology in New York, and finally discovering that I wanted to write fiction. (Recommended: Grades 4–8)
Book-related Q&A · 30 min
A more informal Q&A, intended for classes and reading groups who've already finished See You in the Cosmos or The Many Masks of Andy Zhou. Teachers will usually ask their students to prep questions in advance of the call. (Recommended: Grades 4–8)
Interactive Writing Workshop: Plot and Character · 40–60 min
A writing workshop in the vein of an improv comedy show -- I share my screen and write live using audience prompts, and together we come up with our own original story (or at least a rough sketch of one), with me stopping along the way to talk about various aspects of fiction. Students will come out the other end knowing some basics about plot and character arcs that they can then apply to their own stories. (Recommended for smaller groups, Grades 6–9)
The Many Masks of Andy Zhou
I'm currently developing programs around my latest novel. Please contact me for the most recent information.
Technology
For virtual visits, I'm open to working with whatever platform you use, be it Google Meet, Zoom, Skype, or others. For the slideshow and interactive workshops, ideally I'd able to share my screen and have the students see my face at the same time.
Honorariums, etc.
I request honorariums for my visits as these help sustain me as a full-time author. However, I will not turn anyone down solely for the inability to provide an honorarium. I'm also more than flexible when it comes to these programs – if you have ideas for other kinds of activities, I'd love to discuss them with you.
Contact
For questions, additional details, or to schedule a virtual visit, please email me.