I'm offering several different types of visits, both virtually and in person. I've given these presentation to audiences of kids and adults alike, in schools, libraries, and at book festivals, all across the world.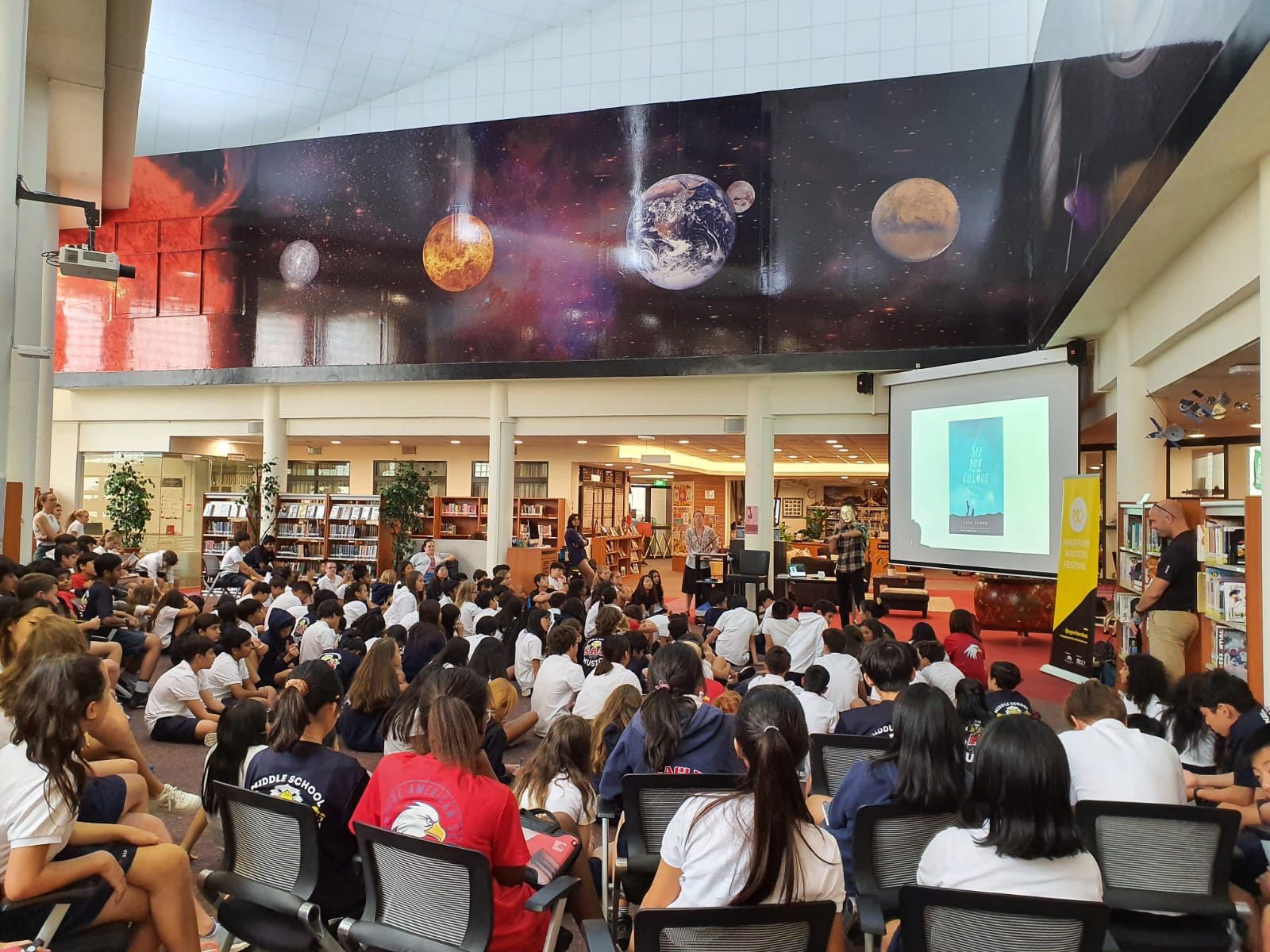 Featured Programs for 2023–24

The Many Masks: Inspirations from Metro Detroit
In-person and virtual · 45 min
A photo-heavy presentation about my own Chinese-American upbringing and its relationship to The Many Masks of Andy Zhou. I talk about my path to becoming an author and show off some of the real places in Southeast Michigan that inspired scenes and settings in the book. Time at the end is reserved for Q&A with students. (All audience sizes, Grades 4+)
Masks and Character Workshop
In-person only · 90 min
A workshop blending visual art and creative writing, inspired by Andy's art in The Many Masks. We spend the first half of the session decorating character masks. Then we use those masks as the basis for writing our own stories, talking along the way about point of view, voice, and characterization. (Smaller groups, Grades 5–8)
Additional Programs
Journey to the Stars: How I came to write See You in the Cosmos
In-person and virtual · 45 min
A (very) visual slideshow intended for a general audience – they don't need to have already read See You in the Cosmos. I take students through my path to becoming an author, from moving from China at a young age to growing up in Michigan, working in advertising and technology in New York, and finally discovering that I wanted to write fiction. (All audience sizes, Grades 4+)
Interactive Writing Workshop: Plot and Character
In-person and virtual · 45–60 min
A writing workshop in the vein of an improv comedy show – I share my screen and write live using audience prompts, and together we come up with our own original story (or at least a rough sketch of one), with me stopping along the way to talk about various aspects of fiction. Students will come out the other end knowing some basics about plot and character arcs that they can then apply to their own stories. (Smaller groups, Grades 6–9)
Q&A with Jack
Virtual only · 30 min
A more informal Q&A, intended for classes and reading groups who've already finished See You in the Cosmos or The Many Masks of Andy Zhou. Teachers will usually ask their students to prep questions in advance of the call. Grades 4+.
Honorariums and Sliding Scale
I request industry-standard honorariums for my visits as these help sustain me as a full-time author. However, I will not turn anyone down solely for budgetary reasons – especially not local to the Detroit area. I'm happy to work with you!
Contact
For questions, current rates, and to schedule a visit, please email me.