Some event news for those of you in or near Detroit: I'm participating in Literary Deathmatch (more lighthearted than it sounds) this coming Thursday, September 15 at The Old Miami. Preorder tickets are $10, $15 at the door. For the first time in public, I'll be reading an excerpt from my new book.
---
My main house-related project this summer was a built-in breakfast nook, pictured above. We'd left an area of our kitchen open when we first renovated the house, and got by for the longest time with only a table and two chairs. Then this spring we were planning to host our friends' baby shower. The promise of extra seating was enough incentive to start the build.
I managed to install the base seating the day before the shower. But I only finished the rest of it – paint, drawers, fronts, and handles – last week. I was posting Instagram stories of the build as I went along, and I've rolled them all into a highlight here.
Now that the nook is finished, and we've used it for meals, for morning tea and journaling, for hosting friends for hotpot on Mid-Autumn Festival . . . I don't know how we went so long without it. Given just how much time we spend in our kitchen, we definitely could have prioritized this project over others. A lesson for next time.
Speaking of lessons, my unspoken-till-recently goal for these home projects, and any creative project, is to learn at least one foundational skill in the process. An analogy I used with my Zoom show and tell group was of Mega Man gaining new arm-gizmos as he went along. Each project unlocks future projects requiring the same foundational skills.
For instance, I was really excited to use linseed oil paint for this project due to its numerous benefits – its durability and lack of VOCs or petrochemicals. But it also requires significantly more patience than other paints or stains I've used. Here's an early test panel I painted to test out different applications: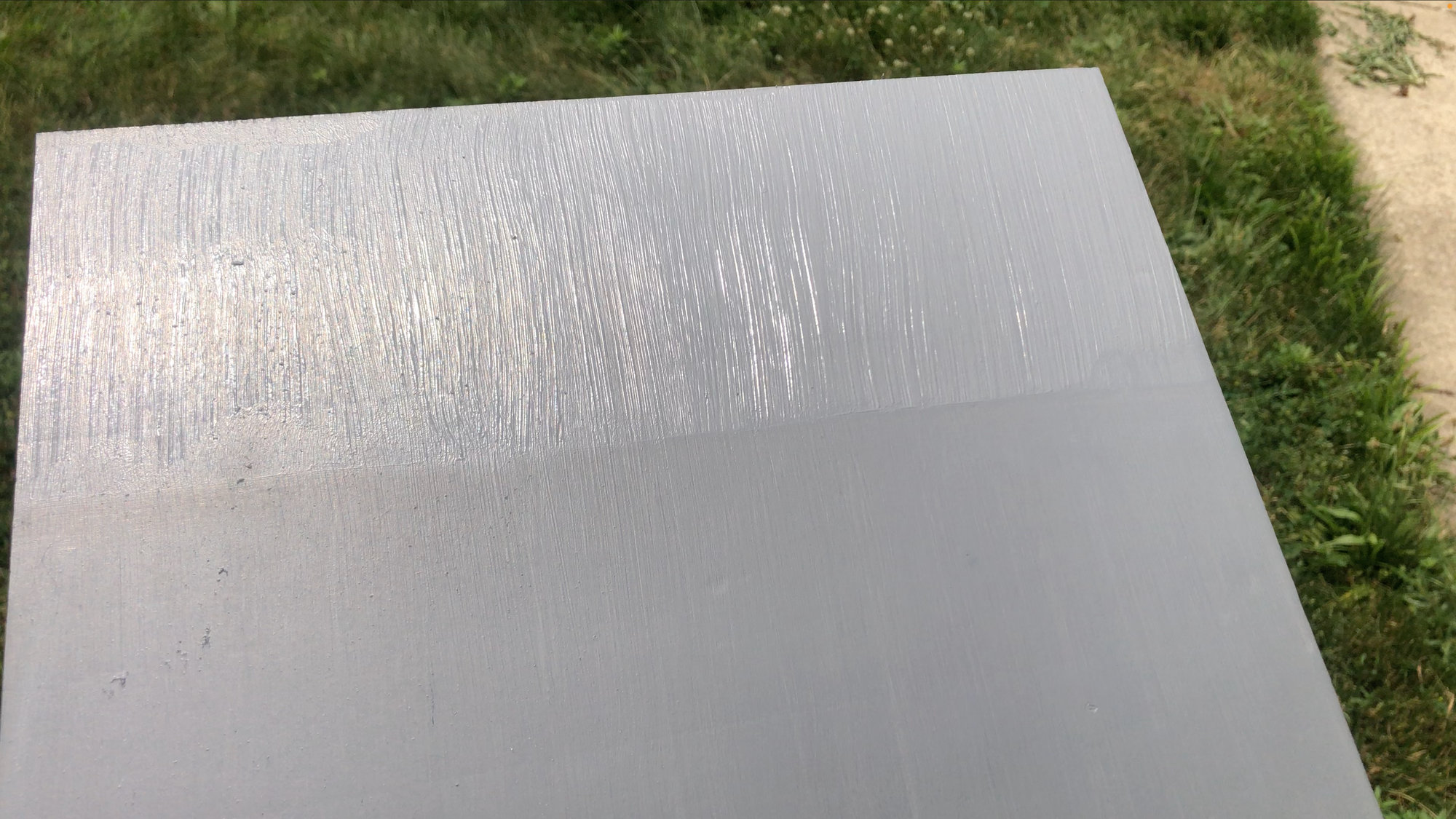 Each foundational skill can usually be broken down into a series smaller techniques, a mini-process: How to mix and work the paint, how to tell if you've used too much or too little, how to store and clean the brushes, etc. Now that I have the experience, I'm planning to paint some doors and window trim with it, both inside the house and out.
The thing I have more trouble with is not trying to learn too many new skills with one project. I knew I wanted shaker-style drawer fronts for the nook to match our kitchen cabinets, but after some research, I realized that proper rail-and-stile doors would've required additional tools and woodworking skills I do not yet possess. It would've been overwhelming on top of what I was already learning – including basic cabinetry. So I custom ordered dovetailed drawers and fronts from a cabinet door store.
Two, three big new things per project seems like a good upper bound for me. True when it comes to books, too.
I do have to admit that I'm not 100% done with this breakfast nook. The seat still needs a custom cushion (future project), and maybe one day I'll add a sloped back (that would need to be carefully fitted around the window frame and have some kind of relationship to a not-yet-existent backsplash). I'd also like a slightly larger, less-oval table (perfectly-sized-for-the-seats), and a different lamp than the one we have (which I first learned how to wire when I built a couple of years ago).
And now the windowless wall beckons for some kind of framed artwork …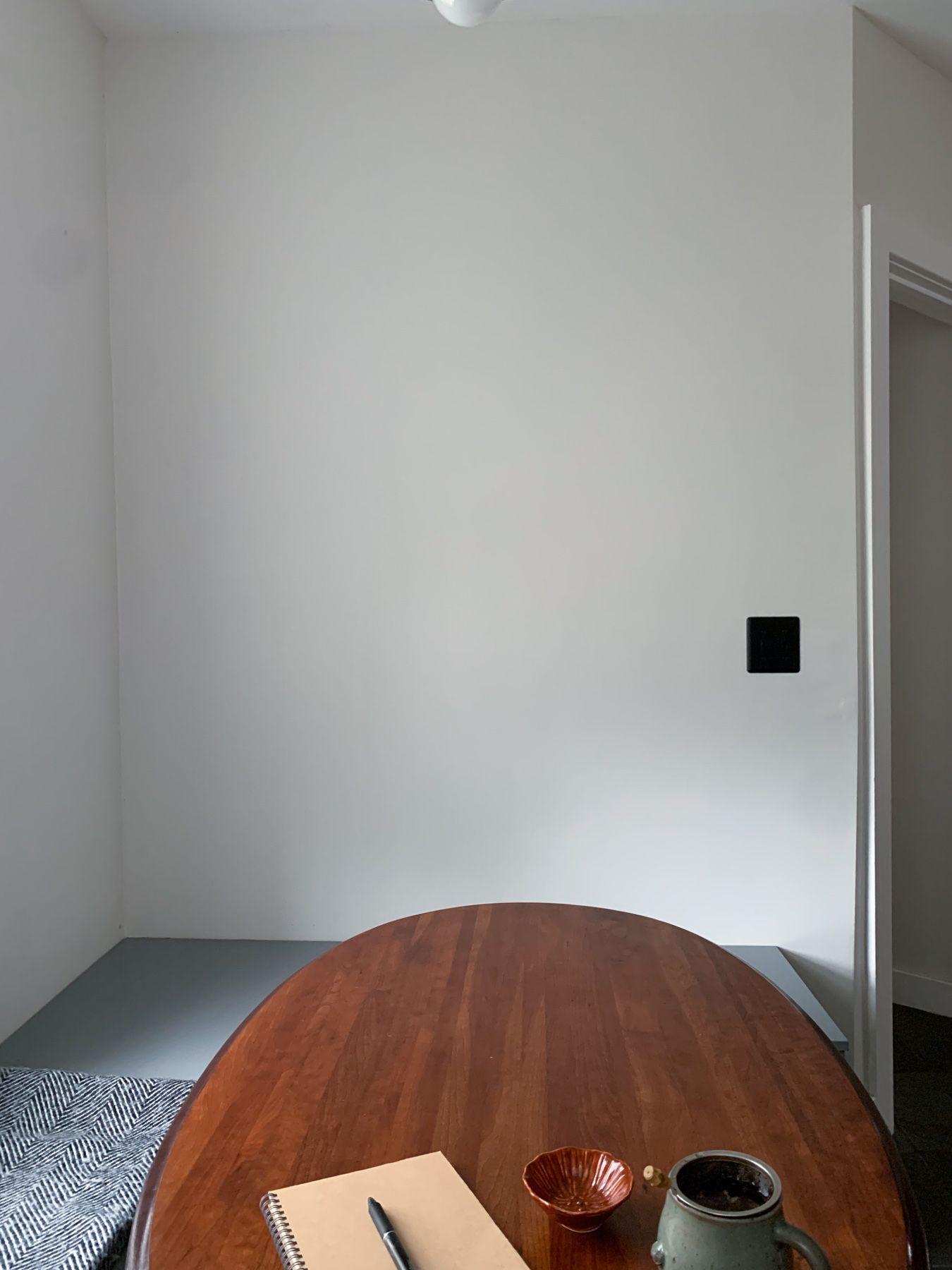 So it goes.